4 Days
Fairytale trip
Date: This trip is only done on demand, with a minimum of 6 people.

Price: NOK 15620,-
We are exploring new paths and try to find new exiting areas in the mountains.
This is a trip in true Kvistli-spirit and fits our saying perfectly: "The adventure is waiting for you".
We leave our watches at home in order to experience what come our way.
Let us take you on an adventure and enjoy the ride!
Accommodations: Traditional Norwegian cabins.
In the kingdom of the musk ox, Hjerkinn og Kongsvold Fjeldstue
-
the best of Dovrefjell
Date: This trip is only done on demand,- with a minimum of 6 people.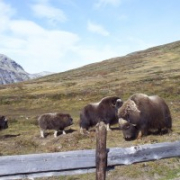 Price: NOK 21780-

Musk ox safari on horseback.
This trip has received great feedback, it is one of a kind!
First day you will arrive Kvistli in the middle of the day, and we wil have time to go for a small ride before dinnertime.
We eat dinner at 19.00
Next day we will ride to Hjerkinn Fjellstue, and here we will stay one night.
Day three we will ride to the majestic Kongsvold Fjeldstue with traditions that goes
back to the 11th century. On this trip we hope to see the musk ox.


Prepare for a trip full of different experiences; gold digging in the river, fishing, exciting animals,
wonderful nature and last, but not least amazing food!
The highlight of the trip will of course be riding out into the mountains looking for the musk ox.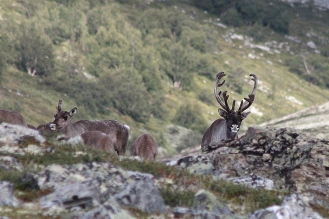 It will also be chances of catching a glance at the wild reindeer and the grouse.
Accommodations: Kvistli Ranch Resort and hotels.
Luxurious and exclusive!
Trip to a high mountain farm in Grimsdalen with accommodation at Bergseng Seter
Date: 25th-28th June
Price: NOK 9020,-
We ride to the the traditional farm Tollevshaugen in Grimsdalen. Surrounded by a beautiful scenery lies Bergseng Seter with a view over the valley and the Rondane mountains. Bergseng Seter is an area consisting of seven restored wooden cabins with a traditional standard. The oldest ones are from 1793, and this is where we'll be staying. Great effort has been put into taking care of the old characteristic, with a good balance between the traditional and modern faciilities. Here you can experience a tranquile environment, peaceful and comfortable. Shower and bathroom will be available.
During the trip we go on 2 whole day rides in the valley Grimsdalen. Here we will see grazing sheep, cattle and horses side by side, and still some of the old dairy farms are active up to this date.
Together with us on the trip, we have a local shepherd. She cares for the sheep in the area by horse, and she brings her working dogs with her. We are lucky to have her with us, and her expertise is unique.
There will of course be many places perfect for tölt and canter.

Sist oppdatert 27.04.2023 kl. 15:36